Working from Home 17th April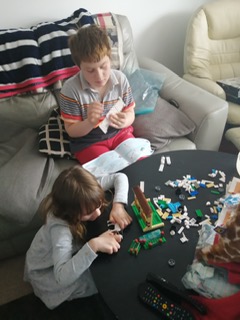 Aaron and Grace have been very busy since school finished in March.
They have been busy in the garden planting potatoes and sowing carrot seeds as well as mowing the grass! They have also helped by cleaning the car and giving Max a bath.
They have loved playing with their Lego together and have coloured rainbows for the windows.
They also joined in with other Beavers, Cubs and Scouts from all over the world in an online campfire singing songs and toasting marshmallows! Sounds brill!