Working from Home 24th April 2020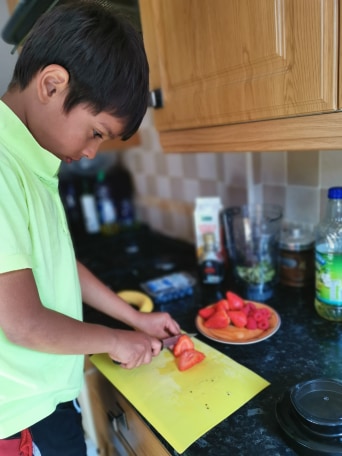 Aren't we lucky to have had such wonderful weather during the lockdown? It has enabled our children to make the most of the outdoors and get involved in lots of gardening and DIY! Great skills to have!
After finishing his school work Markuss has helped to paint the fence and then he made a lovely refreshing smoothie! Yum!!
Declan has had a lovely day where he done some NumberBot work, questions about The Twits and a poster all about himself. He also drew out an exercise course with chalk in the back garden with instructions for bunny hops, jumps, hopscotch. His little sister enjoyed it too. He finished the day with a nice bike ride. What a busy bee!
This week's Reception home learning was based on the book Shark in the Park. Charlie was pretending to be the character Timothy Pope and made a telescope. Very creative Charlie!