Working from Home 12th May 2020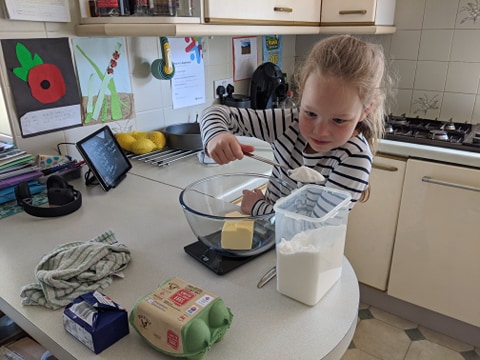 Hello again everyone! We have some more lovely pictures to share with you today!
Ezri has been keeping busy working out, running with big brother Ned, doing her school work, baking, VE Day street party, looking at the milk moon and making cards.
Declan helped to make some red, white and blue decorations on Friday for a front garden celebration for VE day. On Monday he was straight back into school work, doing his online maths in the morning and also working on the French words for colours. Declan also watched the clips about Boudicca and made a 'Wanted' poster about her. He enjoyed learning about crocodiles and made a fact file about the things he found interesting.
Jess really enjoyed the VE Day celebrations, she entered a cake competition and came 1stand then donated the cake to the Residents of Milbanke Care Home near the school, they really loved the cake and Jess really liked helping them.
Jess has completed all of her assigned work, learning long multiplication and has learnt to play Happy Birthday on the keyboard. She has also been teaching Daddy some Ju Jitsu moves in the garden and played lego a lot too.
Farm work for Jess has continued too with jobs like feeding the calves, putting electric fences up, counting worms in the field to test how nutritious the soil is and driving the load all!!
Jess is also making a scrap book on "Our Quarantine" to look back on- this is such a lovely idea!